The voice of him that cries in the wilderness, Prepare ye the way of the Lord, make straight in the desert a highway for our God. (Is 40:3)
Those are the words of the Prophet Isaiah. But they remind us of John. John the Baptist, John who wore clothing made of camel's hair, with a leather belt around his waist. And his food was locusts and wild honey. (Mt 3:4)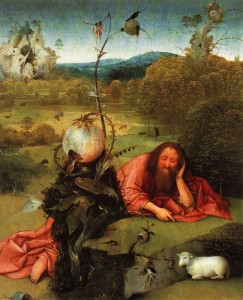 It is with John that we meet this Sunday, the Third Sunday of Advent, in the liturgy of the Church. (This is also the Sunday that priests and deacons get to test our manhood by wearing tutti-frutti vestments. But John knew nothing of silk and brocade.)
John lived on the edge of the Judean desert, down by the Jordan River. And he brought thousands of people closer to God. He told them: He's coming. He is near.
That's what he says in the Gospel today: I am baptizing you with water, but one mightier than I is coming.
He is coming. He is closer than you think.
God is always closer than you think.
That's what the Gospel is telling us. The antiphon for this Sunday says "Gaudete in Domino semper" – Rejoice in the Lord always. Saint Paul said it: "Rejoice in the Lord always; again I say, rejoice. Indeed, the Lord is near." (Phil 4:4-5)
Whether Paul or John, the message is the same: Look out! The Lord is nigh.
…
But I am not holy enough. He will baptize you with the Holy Spirit and fire.
But I am not ready. His winnowing fan is in his hand to clear his threshing floor.
But I don't want Him to come. Be not afraid.
…
Christ is coming anyway, nevertheless and all the same.
The world will receive him not, but He is coming.
There's no place for Him, no room in the inn, but He is coming.
He is coming in spite of it all.
Advent makes us aware of this truth. It makes us take action. It rings out: Remember! Remember that God comes! And we say not "He has come" — not even "He will come"— but: He comes. Not yesterday, not tomorrow, but now.
(Pope Emeritus Benedict spoke of this at First Vespers of the First Sunday of Advent in 2006.)
The one true God is not a cold white statue who sits in Heaven. The living God, our God, is the-God-who-comes. That's His nature. He never stops thinking of us and, in the "extreme respect" of our freedom, as Benedict puts it, He wants to meet us and visit us, to dwell among us, to stay with us. His 'coming' — His advent — is motivated by His desire to free us from death; from all that ruins our joy. God comes to save us.
The Fathers of the Church saw that the 'coming' of God — which is always happening, continuously — is centered in two principal comings: Christ's Incarnation, first, and then His return in glory. Cyril of Jerusalem said this 1600 years ago (Catechesis 15,1: PG 33, 870).
And the readings of the liturgy reflect this idea:
In the first days of Advent, the accent falls on the expectation of the Lord's Final Coming. Then, when Christmas comes closer, the dominant note is the commemoration of what happened at Bethlehem. That makes us ready to recognize in that poor Baby from a poor Jewish family the fulfillment of prophesy and the 'fullness of time.'
But between these two advents, these two comings, it is possible to identify a third advent. And here we go to the mystic monk Bernard of Clairvaux. He talks about an 'intermediate' and 'hidden' coming of the Lord. And that advent is happening all the time — in your soul. It is happening now. God is building a bridge in you between the first coming, at Christmas, and the last coming, at the end of days.
That is what Benedict taught.
Are you still feeling sleepy?
…
There is an English poet called P.J. Kavanaugh. He died this year. In "Blackbird in Fulham" Kavanaugh takes us to a settled, sleepy neighborhood in Southwest London. People are comfortable.
And then a blackbird comes in to mess everything up:
A John the Baptist bird which comes before the light, chooses an aerial / Toothed like a garden rake, puts a prong at each shoulder, / Opens its beak and becomes a thurifer / Blessing dark above dank holes between the houses, / Sleek patios or rag-and-weed-choked messes.
Too aboriginal to notice these, / Its concentration is on resonance / Which excavates in sleepers memories / Long overgrown or expensively paved-over, / Of innocence unmawkish, love robust.
Its sole belief, that light will come at last….  (From Collected Poems, Carcanet, 1992.)
Light will come at last: John the Baptist, that voice crying in the wilderness, awakens our deepest memories.
And memory awakens hope. Ratzinger, when he was still a cardinal, taught that Advent awakens in all of us memories of goodness. Advent is about a connection between memory and hope that is right at our core. Advent wakes up the most basic emotional memory within us: the memory of the God who became a child.
Why is that our deepest emotional memory?
Not just because we all remember Advent and Christmas as children, and looking at that little doll of the baby Jesus is some nativity scene. This memory is deep not because it is old but because it is true. It is an intuition that is woven right into our genetic structure as sons of Adam and daughters of Eve. We remember the pain of being shut out of that Garden. And we remember that the prophets promised us a Savior.
The nursing child shall play by the cobra's hole,
And the weaned child shall put his hand in the viper's den.
They shall not hurt nor destroy in all My holy mountain,
For the earth shall be full of the knowledge of the Lord
As the waters cover the sea.
The wolf shall dwell with the lamb… And a little child shall lead them (Is 11)
In our inmost racial memory — as a human race — we know that it is true.
And this is a healing memory. It brings hope.
That's what John the Baptist brings us this Sunday. The whole point of Advent, and the purpose of all the seasons in the Church's year, is to rehearse over and over, continually, the great history of memories; to awaken the memories right in the center of our hearts so that we can finally open our eyes and see that star — the star of hope. (See Ratzinger, Seek That Which Is Above, 1986.)
Jesus is coming. He coming, nevertheless. He is coming, like it or not.
The Lord is near.
The Lord is at hand.
Be careful for nothing; but in every thing by prayer and supplication, with thanksgiving, let your requests be made known unto God.
And the peace of God, which passes all understanding, shall guard your hearts and minds through Jesus Christ. (Phil 4)